Cleaning without limits

Horse-dung, foliage, waste or windfall cleaner by PowerPac
Note: Vacuum container made from aluminium
and not plastic as is the case with other suppliers
Equipped with a stronger engine Husqvarna type 570BTS = 100 % more Suction power
Videos
leaves
horse dung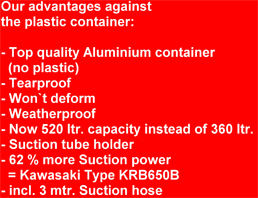 Put an end to tiresome collecting of horse-dung. With the new Multi-Cleaner you can quickly and effortlessly remove any unwanted material from your fields,
stables and horse paddocks. Above all, this includes horse-dung, which must be removed for the wellbeing of the horses.
Your foliage can also be cleared up with minimal effort. The latest product is the aluminium Multi-Cleaner, which in comparison to the original plastic containers
is tear and distortion-resistant, and now has a volume of 520 litres instead of 360 litres. According to the manufacturer, this flexible device generates as much interest among stables, horse-breeders and livestock breeders as it does among town/fairground cleaning service providers or even fruit growers for collecting windfall. With a high suction power and 520 litre capacity, its usability knows no boundaries. The standard device includes the following: axle/towbar,
support wheel, vacuum hose retainer, 3 m vacuum hose and large fine filter.
The Multi-Cleaner can also optionally be fitted to an MCE400 electro wheelbarrow, or to the RC450/RC550 track-dumper for extreme ground conditions and sloping terrain. In addition, an electrically operated brush and snowblade can be attached to the electro wheelbarrow.